Implants
Implants have transformed dentistry over the last 50 years and are now often the first choice of treatment for the replacement of missing teeth.
An implant is a titanium substitute for a natural tooth root and is placed into a socket created in the jaw. It is usually screwed into place creating an initial stability, which over time is steadily enhanced by further growth of bone on to the implant surface. This process of fusion of bone to implant is known as Osseo-integration. The internal design of the implant allows a variety of fittings to be attached to it, which support replacement teeth, providing the foundation for long-term support of crowns, bridges or dentures.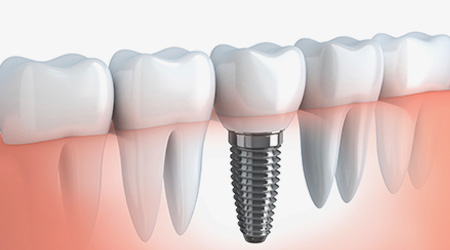 Depending upon the extend of the bone loss after tooth extraction, bone grafting may be required in order to restore adequate bone volume for implant placement.
Dental implants are so natural-looking and feeling, you may forget you ever lost a tooth.
Each implant must be accessible for daily cleaning so that the biology of the mouth maintains healthy bone and gum surrounding the implant.
Following all stages of implant treatment you will be fully advised by Dr. Odysseos on care and maintenance of the implants or the superstructure they support. The instructions will include how to clean adequately and what techniques and materials to use to assist in achieving this.
Every way you look at it, dental implants are a better solution to the problem of missing teeth. You may smile with confidence once again!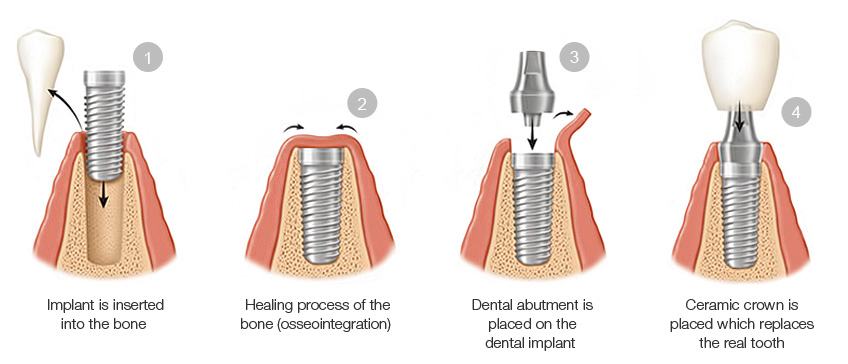 What are the Benefits of implants?
Natural looking
The closest to real teeth you can get! Implants don't only look real, they feel real too. They integrate into the structure of the bone and no bone loss or gum recession is allowed. Therefore you will forget you've replaced a missing tooth and nobody will ever realize that it is a replacement for sure!
Protective of healthy teeth (Tooth- saving)
Dental implants don't sacrifice the quality of your adjacent teeth like a bridge does because neighboring teeth are not altered to support the implant.
More of your own teeth are left untouched, a significant long-term benefit to your oral health!
Confidence
Dental implants will allow you to once again speak and eat with comfort and confidence. They are secure and offer a retention for the existing dentures. They'll allow you to say goodbye to worries about misplaced dentures and messy pastes and glues.
Reliable
The success rate of dental implants is highly predictable. They are considered an excellent option for tooth replacement. Please feel free to visit us for a thorough evaluation of your dental health which will determine how you can benefit from implant placements, and receive a personalized dental treatment plan.