Teeth Whitening
Tooth whitening is a cosmetic dentistry procedure that lightens teeth and helps to remove stains and discoloration. It is the most popular treatment by both men and women alike and the treatments available range from one-time dental visit (office bleaching) to take-home do-it-yourself kits (home bleaching). Tooth whitening is popular because it can significantly improve the appearance of your teeth at much less cost and inconvenience than other techniques.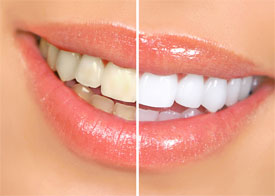 Yellow or stained teeth are a common problem most people will develop at some point in their lives but can remedy with proper treatment. Our teeth contain enamel, a porcelain-like surface that started out sparkling white. Tooth enamel is designed to protect the teeth from the effects of chewing, gnashing, trauma and acid attacks caused by sugar. Over time, our enamel starts to hold stains within its pores and becomes more transparent and permits the yellow color of dentin, the tooth's core material, to show through. As more stains and debris accumulate because of normal wear and tear and eating habits, the teeth develop a dull, lackluster appearance. Tooth whitening exists to remove the stains and debris associated with diet and aging.
How many types of teeth staining are there?
Extrinsic Staining- Extrinsic stains are caused by external factors such as coffee, red wine, tea, other dark-colored foods and drinks, tobacco and routine wear and tear. Essentially they are a natural part of life but they are unsightly and can be removed. Superficial extrinsic stains can be removed with good hygiene techniques such as regular brushing and dental check-ups with cleanings. More stubborn stains can be removed with more involved efforts like teeth bleaching or whitening.
Intrinsic Staining- Intrinsic stains occur much deeper in the tooth than extrinsic stains, forming in the interior of teeth. They can result from trauma, aging, exposure to minerals (like tetracycline), during tooth formation and/or excessive ingestion of fluoride.
What Causes Tooth Staining?
Food and diet are the most common culprits of teeth discoloration, but there are a number of causes that can incite discolored teeth. Below is a list of the top causes of teeth stains and discoloration: