Dr. Phanos Odysseos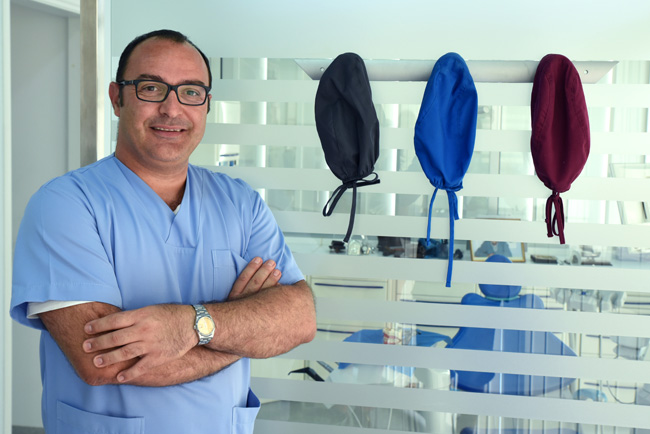 Dr. Odysseos graduated from the Phillips University of Marburg in Germany in 1996 with a degree in "Doctor of Dental Surgery" and in 1997 attended with a post graduate degree programm in implant dentistry at the New York University (NYUCD). He remained in NYUCD until 2000 where he did his specialization in implant and prosthetic dentistry next to the well known and achieved professor Dr. Dennis Tarnow.
Since 2000 he has his own dental clinic in Nicosia where he practices implant, aesthetic and reconstructive dentistry, including bone and soft tissue grafting, sinus elevation, restorative and aesthetic dentistry.
His strong commitment to continuing education is often translated to training with globally recognized pioneers and experts of advanced cosmetic and implant techniques.
At the same time he is a visiting lecturer at the University of Athens, at the postgraduate department of prosthetic dentistry and is involved with implant mentoring along with lecturing and presentations at the University of New York as Alumni on implants, bone and soft tissue management and aesthetic dentistry.
He has attended numerous continuing education courses in implant, asthetic and reconstructive dentistry with globaly recognise pioneers and experts.
Dr. Odysseos was president of the Cyprus Dental Implant Association and was an acting member of the Cyprus Dental Association and the Cyprus Dental Scientific Committee since 2000.
He is a member of the European Academy of Osseointegration (EAO).
In his clinic Dr. Odysseos can offer a personalized treatment based on the needs each patient has in a warm and friendly environment. Each patient is treated with compassion and time is given for a full consultation and conversation so all issues are addressed and a solution is presented.